Smart Cities of the Future – Real World Solutions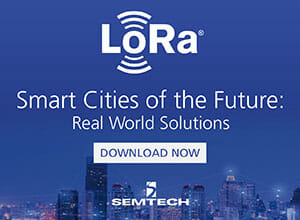 As we look to the future, it's easy to imagine how innovation will continue to produce safer, more connected and sustainable cities. From asset tracking to utility management, an ever-growing portfolio of cost-saving smart devices can be deployed in smart homes, buildings, vehicles, and supply chains to automate and improve day-to-day operations.
This collection of use cases from the vast LoRa® ecosystem showcases four real world deployments to demonstrate how Semtech's LoRa technology and the LoRaWAN® standard enable flexible, secure and low-cost Internet of Things (IoT) solutions and network infrastructure for smart cities to improve everyday lives of citizens and enhance public services.