The price of Bitcoin has dropped to below $6,000 (£4,300) – its lowest price since November 2017.
The value of cryptocurrencies across the board has tumbled, but Bitcoin's price has suffered the most, with a drop of 61.47% or £7,529 over the last month, according to the Coinbase app.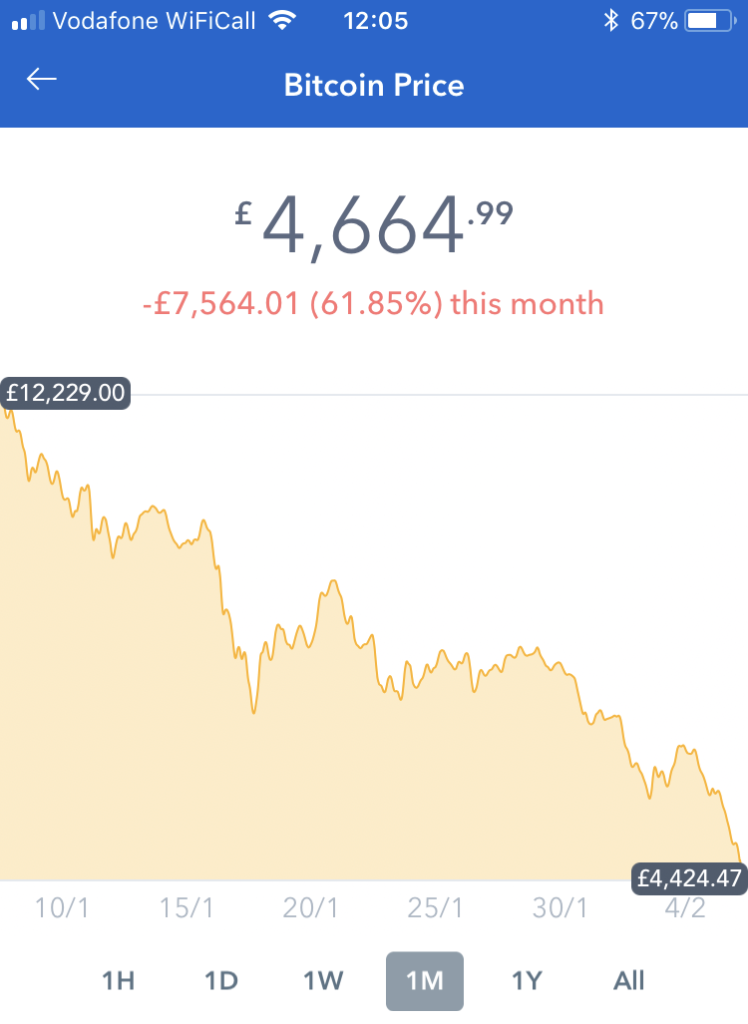 In November, Bitcoin's price peaked at around $19,000, but since mid-December it has begun to fall steadily. This is, in part, due to cryptomarket corrections.
But the latest falls comes a day after several US and UK banks – such as Lloyds Bank – banned customers from purchasing the digital currency with credit cards. However, it is not clear whether this is a significant factor, due to the natural volatility of the crypto-space.
>See also: Cryptocurrencies: Will 2018 be the year they hit the mainstream?
The tightening of legislation in countries, like China, South Korea and now the US, may also have shaken investor confidence in cryptocurrencies.
According to Chinese State Media, China is preparing to prevent investors from accessing foreign virtual currency exchanges, although it is unclear how this will be achieved.
>See also: The technologies behind cryptocurrencies
On Tuesday, the US Securities and Exchange Commission (SEC) and the Commodity Futures Trading Commission (CFTC) will testify in front of the Senate regarding regulating digital currencies.
The chiefs of these regulators are expected to tell the US government to tighten regulations surrounding the cryptomarket, in order to reduce risks of fraud and market manipulation.
Brian Kelly, the CEO of an investment firm focused on digital currencies, said: "One of the biggest problems we've had in this market is institutional investors don't know where exactly they stand regulatory wise, what can they do, what can't they do."
>See also: Decrypting cryptocurrency and its widely held misconceptions
The fall of the other cryptocurrencies
The price of Ethereum, which was at its height on 9 January was $1,255.89. It is around now $574.42.
Bitcoin Cash reached $4,091.70 on 20 December 2017, but has since dropped to approximately $766.03.
Litecoin reached $366.01 on 19 December 2017, but has fallen to around $106.94.
Confidence remains strong
Despite this latest crash, experts have predicted that Bitcoin is fair from finished. Indeed, cryptocurrencies are here to stay.
Nithin Eapen, chief investment officer at Arcadia Crypto Ventures has claimed Bitcoin is the future.
Commenting on the price drop, he said: "This is nothing you see. It has just fallen 20% this week, maybe in the two months, it has fallen 50%. I used to remember times when this was one dollar, then it goes to $10 and then it's back to $3. Compared to that, this is nothing."
"For all of those newbies out there, oh my God, they're going to get crushed, but this is not classical music, or Jazz, this is punk rock, and they have to be ready for that."
>See also: What was learned from cryptocurrency in 2017 and what to expect in
"If you are expecting classical music, something that is very calm, well you are in for a surprise."
Speaking on Al Jazeera, Eapen said: "What percentage of people are in crypto? And this is changing the world. This is like 1994 and the internet. By 1998 most of the analysts out there were saying 'by 2002 there is not going to be any internet there and this hype is going to go away.'"
"So in between that prices went up and prices went down but the space is expanding".
Is it possible to regulate?
Regulation speculation has been a factor in the declining price of cryptocurrencies. However, Eapen does not think Bitcoin can be regulated.
"One, you cannot regulate Bitcoin because nobody owns it," he said.
>See also: Bitcoin, Ethereum and other cryptocurrencies surge
"You cannot take the server down, there is not one server to take down, there is not one company to take down."
Return to price high
Ran Neuner, CEO of OnChain Capital has claimed that Bitcoin will return to its high prices of last year.
"I've been tracking bitcoin since last year and it went up from $17,500 up to $20,000 in anticipation of the futures."
"I'm expecting the market to hover here for a little bit, a little bit nervous. And then I'm expecting some kind of something to bring up the green candle and that will start the momentum back up again."