London has been ranked as the leading destination in Europe for technology-based industries.
The UK capital scored highest in a report by CBRE that analysed the characteristics of tech clusters and explored high-performing and emerging tech cities.
Out of 35 cities across Europe, London beat stiff competition from Paris, Berlin, Munich and Madrid to top the index.
The report also identified Budapest, Bucharest and Istanbul as the fastest-growing emerging European tech cities.
See also: Why London will remain a global tech hub post-Brexit
The index was developed based on employment, growth and demand credentials, propensity to generate start-ups and new patents, and attractiveness for technology students and graduates.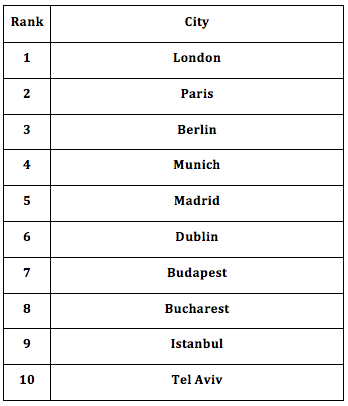 Take-up by technology-based industries to the end of September totalled 2 million square foot, making it the most active business group in Central London so far this year.The rate of employment growth in the tech sector over the past five years has far exceeded the rate of growth across office-based employment as a whole, according to the report.
Rising occupational costs and the growing shortage of suitable office stock in London's West End has resulted in tech occupiers increasingly favouring the City of London (City), Midtown and Southbank.
This has fuelled the growth of new technology locations such as King's Cross and Farringdon, while Silicon Roundabout is now firmly established as a leading European market for tech start-ups and SMEs.
>See also: Why the UK's technology sector will survive Brexit
From 2006 to 2015, the City core (City of London and EC4) experienced rental growth of 6.3% and 5.9% respectively, while City fringe locations (such as Spitalfields and Whitechapel) recorded rental growth of 17.5% and 12.9% respectively.
Further south, Apple's recent 500,000 square foot office leasing at the Battersea Power Station redevelopment is further evidence of London's appeal as a tech hub.
"London is a world-class leader in the creative and technology-based industries," said Simon Calvert, senior director, advisory and transaction services, CBRE. "Its location, political and legal structure, as well as its wide range of social and cultural attractions, makes it one of the most exciting places in the world for tech and young tech talent.
"Even with the economic and political uncertainty brought about by the EU Referendum, we believe these inherent fundamentals serve as robust indicators of London's continued strength as a major European and global tech hub."
Related Topics