These twin trends of DevOps and CloudOps are spawning new business models and disrupting old ones, while up-ending most of what people thought they knew about IT service delivery. Both topics are also as much about processes and people as tools and technologies.
In many industries, the disruptors are 'cloud-native' companies that are pushing more traditional enterprises to transform or risk being left behind. The same can be said for IT management practices… transform or be left behind. Welcome to digital transformation.
Sometimes when you shift left, you might run into a wall
Breaking through traditional IT silos is at the heart of DevOps and is key for enterprise agility. The hierarchy of handoffs is replaced by a cycle of continuous cooperation (not to be confused with the conjoined triangles of success for you 'Silicon Valley' fans).
In DevOps, a flattened set of tools and processes works in parallel across a pipeline. The same holds true for people, but reaching organisational nirvana can be a challenge as everybody is saddled with hold-over role definitions.
>See also: Digital transformation demands DevOps professionals with security skills
Tackling organisational challenges of wide-scale transition begins by conducting a full inventory of all current processes. Identify those that need to stay in place, those that should be retired, and those that need a healthy dose of automation.
It's also important to realise that you can't modernise an entire application library in one swoop. Look for unified orchestration platforms that conform to your methodologies and enable refactoring, re-architecting, or re-building apps without throwing out your existing tools or the skill sets of your existing staff.
To be successful in using DevOps as the springboard to digital transformation, follow the advice of the agile-development pioneers and go pick-up a copy of 'The Phoenix Project'.
• Align DevOps with your business strategy.
• Attach DevOps pilots to existing systems (no 'science projects').
• Be inclusive to win hearts and minds (no DevOps 'cool kids').
• Start with projects that will add new value and differentiation.
• Cultivate DevOps talent from across the organisation.
• Embrace small mistakes as much as small victories. Failing fast is a virtue.
Embracing changing premises…on the premise that everything changes
Any IT manager who feared the rise of cloud would render them obsolete can rest knowing there's demand for operations teams to reinvent themselves in this new world. In a recent ServiceNow survey, 75% of enterprises reported that a cloud-first approach made IT more relevant to the business. Unfortunately, 90% reported IT workers lacked skills to implement those plans.
>See also: The agile network will power digital transformation through businesses
Traditional descriptions of various X-as-a-Service deployments focused on shifting responsibility for care and feeding of IT to somebody else. However, now several years into a multi-cloud future, the reality is that enterprises using heterogeneous clouds to satisfy the right mix of application optimisation are left with a patchwork of tools and overheads to rival what they had pre-cloud. The answer for cloud operators could be to learn from DevOps automation and apply those same principles to the operating of hybrid IT… i.e. CloudOps.
Just as virtualisation abstracted OS images from underlying hardware, the right unified cloud management can abstract operators from the specialised nuances of native tools from cloud or application platform providers. This can be described as a 'self-levelling' approach to orchestration and is something to think about as you face tool and cloud sprawl.
Making the case for a 'Digital Transformation Officer'
Change is always hard, but knitting together dozens of IT systems and doing the organisational mash-up discussed here can be downright impossible without the right leadership.
The Digital Transformation Officer's role is to drive change by holding responsible the parties who manage the hundreds or thousands of components that comprise a typical application. They must be masters at balancing: short-term successes vs. long-term value; delegating vs. personally ensuring results; and committing resources vs. staying agile.
>See also: Digital transformation: why it matters and how it can be achieved
A report from McKinsey & Company identifies two factors that can undermine the efforts. The first is a failure to act with authority straight from the CEO. The DTO must have the power to act on the CEO's behalf, and to influence important business decisions.
The second great obstacle is an environment in which managers and employees don't buy in to the "urgent need for change." Any bureaucratic dragging of feet or hesitancy is a sign of the wrong attitude and the failure of the message to get through.
The end may be the start
Brad Parks, VP, Business Development at Morpheus Data explains how when he moderating a panel focused on disruptive transformation recently in London with a mix of cloud architects and vendors including Rackspace and Salesforce; he asked each of the panelists to give their best piece of advice for the audience and thought it might be useful to share the speed dating summary of their wisdom.
1) Focus on the people not the tech.
2) Be ready to break all the rules.
3) Design for unpredictability.
4) Start with the end in mind.
>See also: The top 5 trends for digital transformation in 2018
It can be easy as technologists to pick a tool or a technology stack and go down a path without realising the impact that those choices make on a transformation journey. The common thread in all of the advice was that you must have a clear idea as to where you want to go and what business outcomes you want to prioritise. Only then can you reverse engineer the DevOps and CloudOps tooling required to get you there.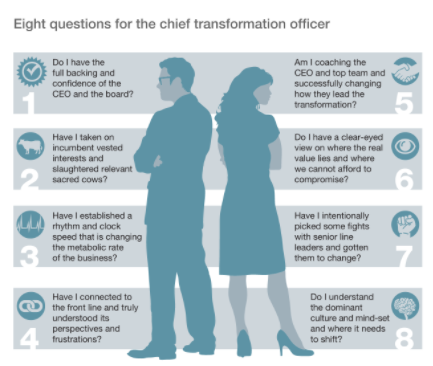 Sourced by Brad Parks, VP, Business Development at Morpheus Data