Mainframe continues to be paramount for many businesses and it turns out that 80% of the world's business data is processed by them, with an aggregated 30 billions transactions per day.
The mainframe is utilised by the world's large enterprises, who also wish to leverage the cloud on it, like they do with their open systems environments.
Enterprise IT teams have traditionally been conservative, but have started to open their mind to mainframe cloud adoption as it represents a real opportunity to align processes to improve procedures, agility and reduce costs significantly.
Model9
Launched in 2016 in Tel-Aviv by Gil Peleg, Model9, funded by Intel Capital, North First Ventures and Glenrock Israel, was founded to address this growing need of mainframe cloud adoption.
For more than 3 years, the product has presented a clear value proposition to fill the gap between mainframe and cloud storage.
The idea is simple and complements the legacy data management model.
Model9 Cloud Data Manager runs on non-billable CPUs, called zIIp — IBM z Systems Integrated Information Processor — and acts as a gateway that connects the system to on-premises or cloud-based object storage, like MinIO or AWS S3.
The benefits are immediate with the reduction of costs, IT modernisation, cloud transformation of the mainframe environment, the data protection improvement and the associated HA/DR in a very easy and transparent deployment of operations.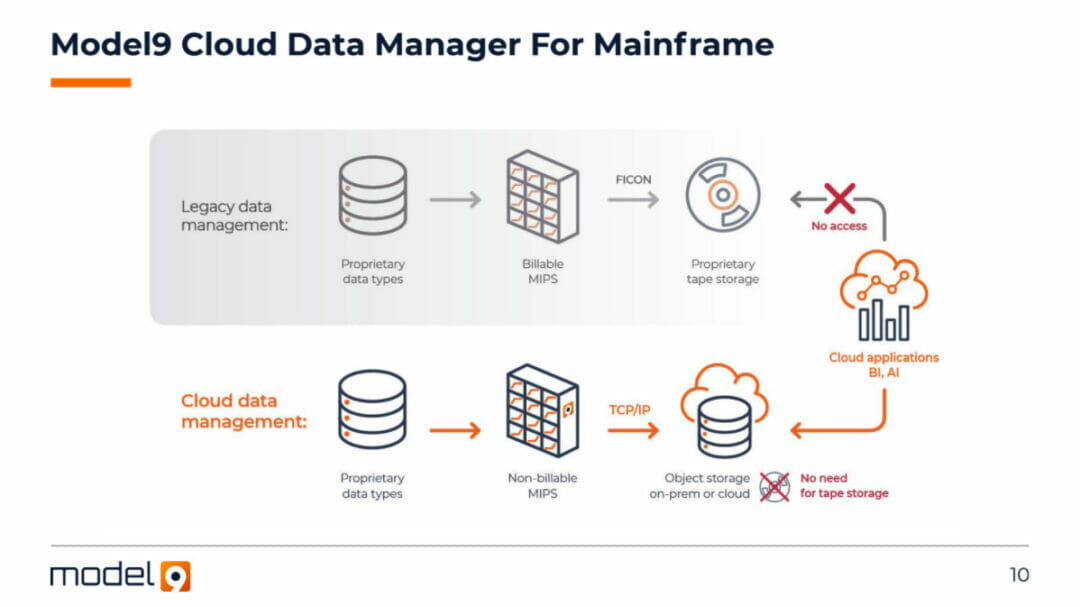 Model9 launched a partner program with a number of public cloud providers, as well as Cloudian, Hitachi Vantara, Dell, NetApp, Cohesity and MinIO — who have been identified as some of the key players in cloud storage by Coldago Research.
The company detailed two case studies with America First and France Gallop, the first leveraged Cohesity and the second MinIO for seven days of cache and then migrated to AWS Glacier for cold data.
Both examples present a full hardware transformation with no media, tape drives and library to manage and the absence of footprint in the data centre.
Model9 is also listed on the IBM partner page.
The company presents an interesting solution to test and adopt for mainframe users looking to modernise their monolithic environment.