Overcrowded, decreasing funds and a lack of skills. The crisis currently facing the NHS is extensive.
As countries across the world face increasingly aging populations, this problem is only set to grow in severity.
Using the UK as the prime example, the NHS is on the brink. There are not enough doctors or nurses – which will be compounded when the UK leaves the EU – there is not enough room for patients and the funds being appropriated by the government – Chancellor Philip Hammond promised the NHS will receive £425 million in government investment over the next three years – are not enough to address these crippling issues.
A change in the structure of UK healthcare needs to be instigated and it needs to have technology at its core. Many experts point to artificial intelligence and automation to streamline services and cut costs, and while there is merit in this, the root of the problem lies much deeper.
>See also: Transforming healthcare with tech
The inherent problem stems from how the healthcare system operates: it is "reactive rather than proactive," says Lars Dahle, founder and CEO of Dignio, a mobile healthcare technological solutions company based in Norway.
The problem facing global healthcare services originates from this idea that, in the majority of instances, patients are only admitted to hospital once they are ill. It is this inevitable overcrowding that wastes time, money, skills and most importantly, undermines patients' welfare.
The solution to the healthcare crisis facing many countries, suggests Dahle, takes the form of preventative care.
The vision
This notion was identified by Dignio back in 2008, Dahle tells Information Age, stemming from the idea that Eric Topol relates to in his book: The patient will see you now.
In his book, Topol envisages a future where healthcare is carried out in people's homes and is a part of daily life.
Dignio have used this ethos to initiate a transformation of Norway's health services and instigate a change in attitude towards elderly patient care.
"Unless society is able to solve the issue of the aging generation, then we will never solve the healthcare crisis," says Dahle.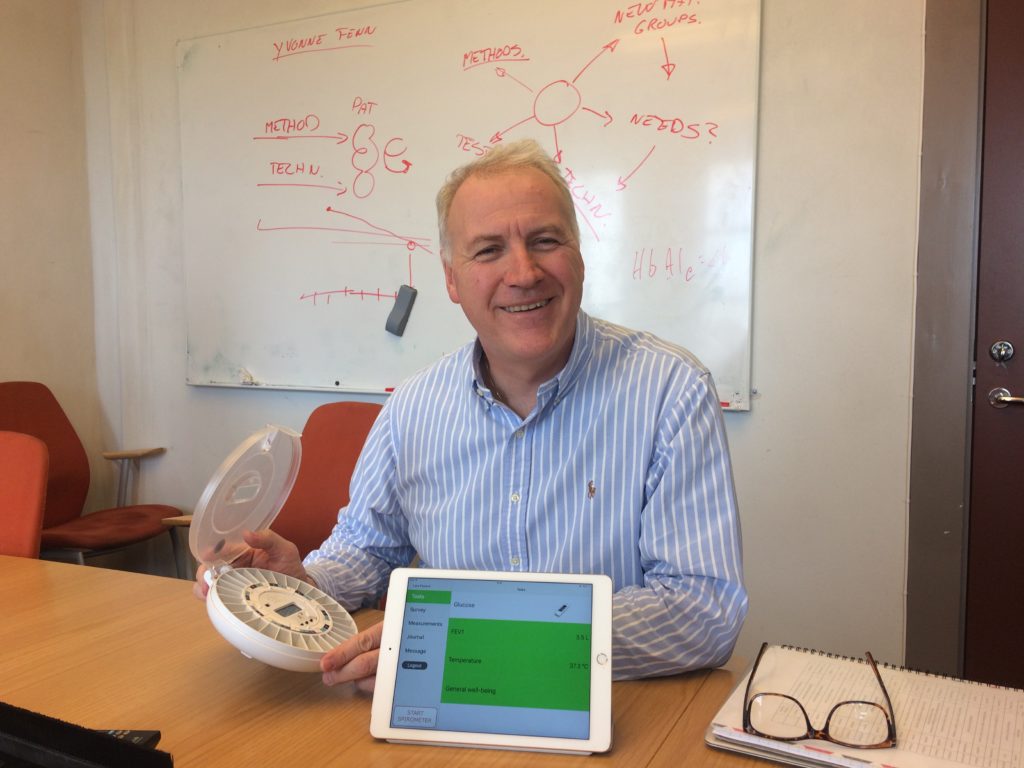 Instead of waiting for patients to become ill, the company have employed a mobile, wireless-based solution that monitors elderly patients from home in order to premeditate illness based on the data being transmitted to Dignio's software platform in the cloud, via a host of easy-to-use devices.
These include a spirometer, which is a common test used to assess how well a person's lungs work by measuring how much air they inhale, how much they exhale and how quickly you exhale, and an ear thermometer which measures temperature.
Based on these readings, among others, nurses – based in Dignio's office in Fredrikstad – can identify in real-time the decline of a patient's health before hospitalisation is required.
The specially designed software platform then pings updates based on severity – green, yellow and red – to the nurses station. The required action, based on these readings, is then taken.
>See also: How digital health could revolutionise the mental healthcare system
The patients can view their data on an iPad provided to them, which is integral, because no one knows an illness like those suffering from it. "I know my own illness best," says one of the Dignio users.
For example, even if the data looks stable the patient might not be feeling mentally or physically well. In this instance they can discuss this with Dignio's nurses via an online messaging platform built into the iPad.
Laila Hagen, head nurse at Dignio, tells Information Age that this type of remote healthcare empowers the patient, and allows "the nurse to transfer knowledge to patients via the app, and vice versa".
Identifying the decline in vital signs – at an early stage – is crucial in improving patient health and hospital services. Jens Espeland MD, Dignio's chief medical officer confirms this and says that this new way of communicating vital signs data between patients and health professionals is crucial in improving treatment quality.
At the moment, he suggests, GP's are only getting a "snapshot" of a person's overall health. Dignio aims to include GP's in the process, but many are reluctant. A change of attitude is required.
From a medical, logistical and financial perspective, Espeland explains, this type of holistic care is necessary. And it is not where the innovation ends.
Dignio have also developed an electronic medicine dispenser SMS, which it has called 'Pilly'. One of the main causes of rehospitalisation, or visits to the GP are because of medicine mismanagement.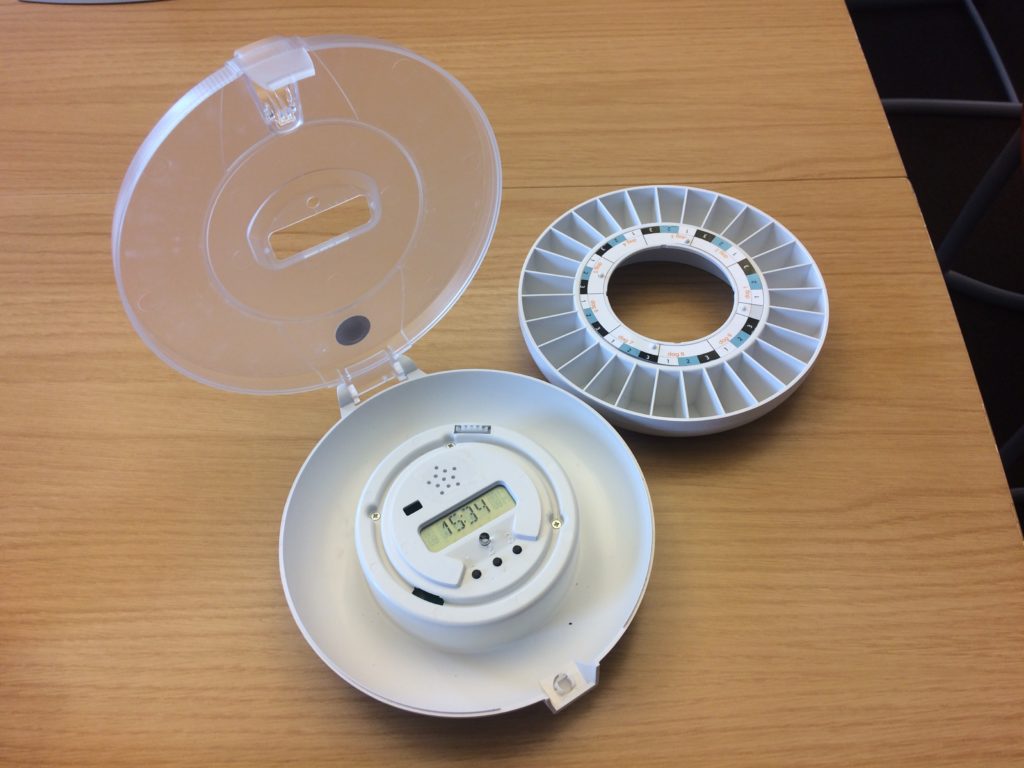 Indeed, after seeing the overall picture that the mobile technology provides, 90% of heart patients using the service adjusted their medication.
This device, again communicates with the software platform via the mobile network, and alerts patients through sound and light when their medication needs to be taken.
If the users do not take the medication a notification is sent to the nurses mobiles, phones or tablets.
Dahle tells Information Age that this method has improved patient 'compliance' by 97% with regard to taking their medication. It also allows the homecare nurses to directly observe the treatment, ensuring accuracy and control.
Evidence
So what have the results been for the patients who have adopted this remote healthcare solution? Has it improved their situation and has it released the pressure on Norway's health services?
172 of Dignio's users, of which 95 had the technology for a minimum of six months, were surveyed by researchers commissioned by the Norwegian Directorate of Health last year in order to establish what impact this e-health innovation was having on services and patients.
It established some remarkable figures. The number of outpatient consultations per month decreased by 34% on average, while the number of hospital admissions decreased by 18.6% on average. On top of this, the number of bed days patients stayed in hospital dropped, on average, by 33%.
In Norway, the average price for a care home is £82,000 a year. This is a tremendous financial burden for the government, which can – in part – be mitigated by this solution based on the results of this survey; albeit from a small sample.
>See also: Software in the healthcare industry: what do you actually need?
Indeed, Dahle referred to one of Dignio's users named Karl. When he first started using the service he had been in hospital 12 times the previous year. Now he goes to the gym and works part-time.
"There is a real will amongst the patients, which we've seen throughout this pilot scheme, to monitor their own health and be responsible for their healthcare," says Dahle. It seems knowledge is power.
Based on these results and the case study provided, it is clear that the real-time management of a condition – preventative care – with technology at its heart, does improve the quality of patient's lives and goes someway, at this initial stage, to addressing the healthcare crisis.
The challenge now, surrounds scalability, which extends to Dignio's aim of aiding the UK health service.
Scale
According to the 2016/17 report further research is needed for a larger selection of patients, follow-ups that go beyond just a pilot period and, not least, more diagnostic and technology specific studies. The economic impact of telemedicine must also have to be better documented and compared between several different health systems in several countries.
While there is no doubt of Dignio's impact on those who have used its service, the journey is at its beginning. Indeed, moving from a pilot to scale is challenging, to say the least.
If the mobile health solution wants to truly impact the whole of the Norwegian health service, and later the UK's NHS, then the IT infrastructure backing the service will need to be expanded.
Dahle explained that scaling Dignio's software platform would not be a problem.
However, when visiting the medical IT program manager, Kjetil Moberg, for the City of Oslo, he suggested that as more data was produced, IT infrastructure would need to be upgraded.
The City of Oslo municipality is responsible for the healthcare of people in Oslo, Norway's capital.
Dignio trialled its telehealth solution in four districts out of 15 within the city. For this number the existing infrastructure sufficed, but moving forward, explains the Moberg, the system would not be be able to cope.
>See also: How big data is transforming healthcare
As more data is produced, the more efficient and more cost effective the infrastructure needs to be. Currently Oslo's public sector infrastructure for healthcare runs on virtual servers on a VMware platform.
Moberg explained that his department was working on project eVIK, which will hopefully provide an "integrated solution that connects directly with the system".
Without this, he said, "the project will fail. I would go as far as that". The IT infrastructure for this public infrastructure needs to be modernised in order to integrate with Dignio on a large scale. The same would naturally be true for the legacy infrastructure that dominates NHS Trusts in the UK.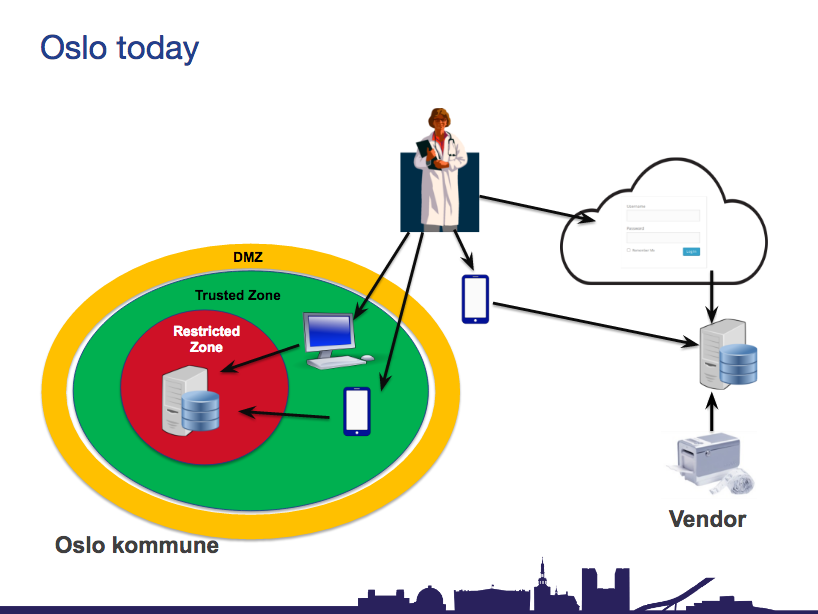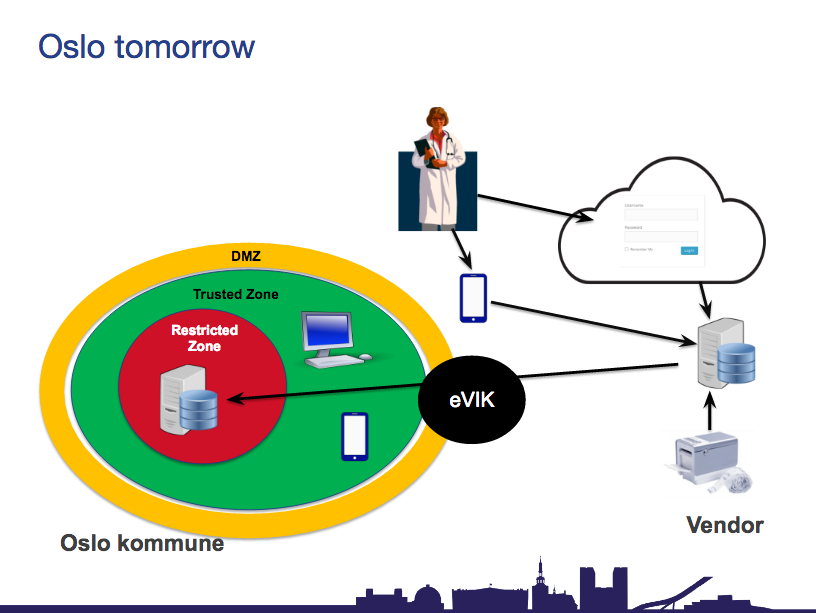 On top of this, the Moberg said a cultural change and ideological shift was needed to adopt an open collaboration approach of sharing data, if Dignio's model was to be successful.
When asked about the proposition of moving everything onto the cloud, Moberg said it could be done, but not with current legislation and capability. In the long run, certainly with one eye on the UK, the flexibility of the cloud offers the opportunity to scale effectively.
In closing
The need to update public sector IT infrastructure is fundamental in scaling Dignio's health solution to the ever expanding elderly population, while the need to up-skill nurses and update internal procedures within hospitals and GP's will also be crucial in helping move mobile remote health into the mainstream.
>See also: The right IoT prescription for a revolution in healthcare
As an idea it makes sense and could well provide the answer to the healthcare crisis pervading national health services across the globe. The issues of scalability, and scepticism from within the healthcare industry remain barriers to Dignio's ambition.
However, increased investment in public IT infrastructure combined with a willingness to adopt these transformative solutions and technologies should drastically reduce tensions within the healthcare industry and ultimately, save lives.
Dahle is adamant that "solutions like ours can solve the health crisis in countries like the UK and Norway. But, without testing you can't establish these principles as truth. You need to assure both the patients and health sector that this really works".