At a cybercrime event at Mansion House, hosted by the Lord Mayor of London and Verizon, leading figures in the UK's police force covered the latest techniques for fighting cybercrime and fraud, provided their insights from real-world data breach case studies and discussed how the private and public sector can address the need for better information sharing
Opening the proceedings at Mansion House, the Lord Mayor of London Dr Andrew Parmley said boosting the cyber resilience of London and indeed the whole of the UK was of 'paramount importance'.
He noted in his address that cybercrime has now overtaken 'traditional crime'. Indeed, there were five million reported cases of cybercrime last year, accounting for half of all UK crime and costing roughly £192 billion.
>See also: Cyber crime: an unprecedented threat to society?
In order to stem this trend, more convictions of cyber criminals must be made. The Lord Mayor expressed his ambitions for London to become the first 'cyber-secure city'. In order to achieve this lofty ambition, he suggested that the police needed help from businesses and individuals to increase convictions and improve cyber resilience.
He also championed, as did many of the speakers after him, the importance of sharing threat intelligence. There is a 'critical value of collaboration'.
The Lord Mayor optimistically concluded that the capital is 'uniquely placed to nurture cyber experts to combat the cyber threat'. This creation of cyber-skilled individuals will be of great importance in the fight against cybercrime.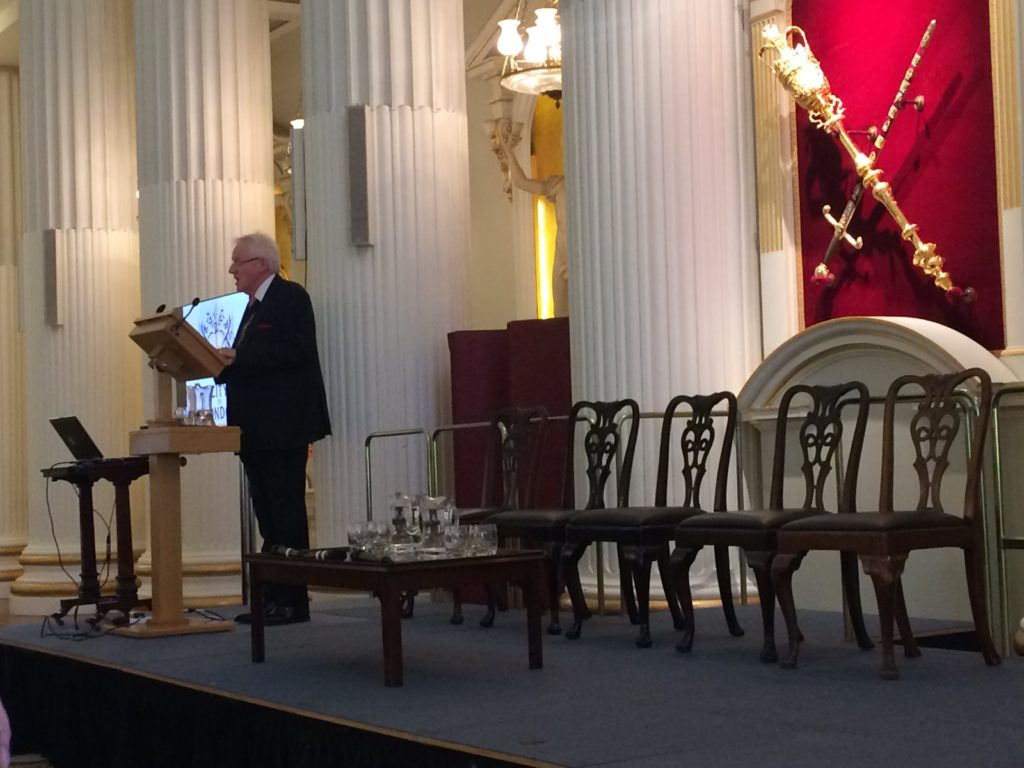 Organised cybercrime
After Parmley's swift introduction, Verizon's Global Head of Cyber Security Strategy and Marketing – John Loveland – welcomed Peter Goodman, Deputy Chief Constable, Derbyshire Police and National Lead for Cybercrime to the stage for his presentation.
He, like the Lord Mayor, emphasised the importance of collaboration. Not just between law enforcement departments, but from businesses and individuals as well. The increasing reliance on the cyber world, he said, represents the 'changing face of criminality'.
>See also: Cybercrime is on the increase and has been for some time
He explained that traditional crime was high risk with a low yield (robbing a bank), but that cybercrime was a low risk with a high yield. This has changed the nature of criminality and policing. It is now a lot harder, because this type of crime has never been seen before.
As the returns of cybercrime are so high, with relatively little risk, organised crime rackets are deploying its use across their whole operations. The main enabler of cybercrime is the criminal marketplace, followed by poor cyber security practice, poor staff awareness and lack of personal responsibility – of which we are all guilty, said Goodman. The extent of cybercrime's growth is highlighted by the UK Government's view of the new phenomenon.
It is ranked as a Tier 1 Threat to National Security, on the same level of terrorism. Could the next terrorist attack, for example, be full cyber? Targeting a small hedge fund with little security to cause a global financial meltdown. Many experts predict that a cyber war targeting critical national infrastructure will erupt in the next five years.
One of the biggest challenges for law enforcement, Goodman suggested, is – and readers will know this well – the rapidly evolving state of malware. Two years ago, he says, it took strains of malware 12 months before it was ready to return to exploit a server. Now it takes two days. The morphing and evolving nature of malware has turned it into a constant threat the police have to deal with, from cyber terror attacks to phishing scams.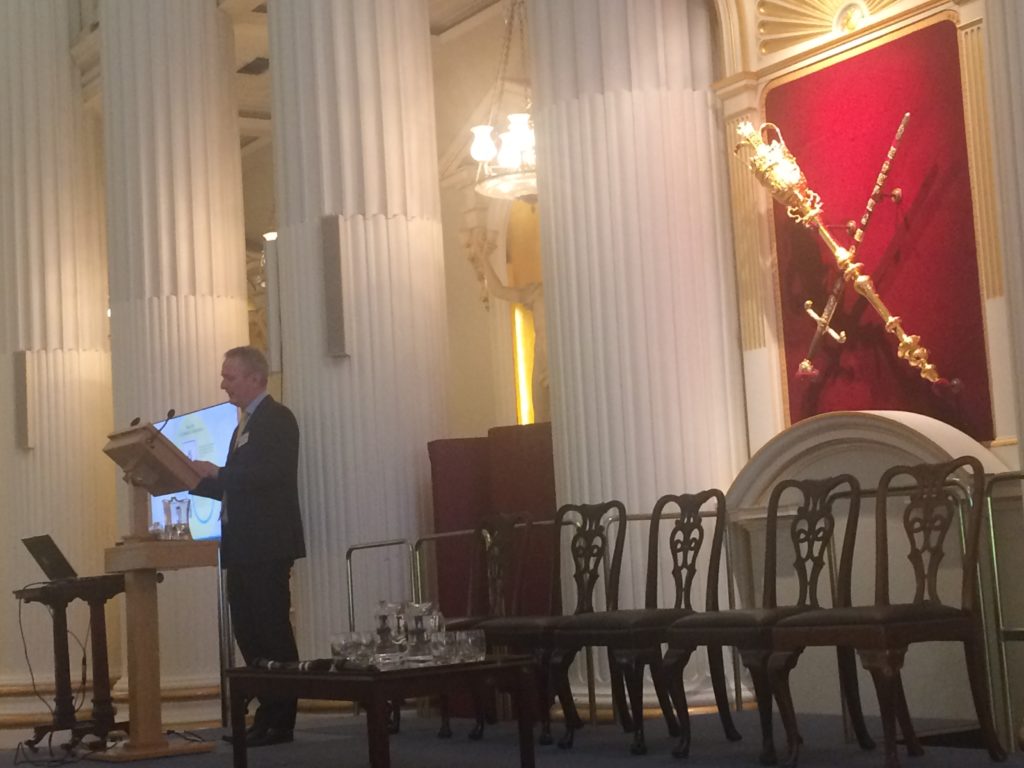 Unreported world
As Verizon's recent 2017 Data Breach Investigations Report revealed, ransomware is on the rise. Organised criminal groups escalated their use of the hostage-style malware to extort money from victims: this year's report saw a 50% increase in ransomware attacks compared to last year.
>See also: The different paths that lead to cyber crime – NCA report
But the crux is, Goodman explained, these attacks – which affect around 50% of UK businesses – go largely unreported. This is because the majority of businesses believe the police will not look after their commercial interests and at the same time, don't have the capacity to investigate. This is not the case and unlike in cases of abuse, businesses must give consent before a case can be taken to the Criminal Justice System.
Changing attitudes
A change of attitude is required to deal with the issue of cybercrime. This is true of the boardroom and the police force. This shifting practice of ideology is promoted by David Clark, Commander, National Lead for Fraud & Commander, City of London Police.
He said that 'every day is a data theft day' and because of the increasing amount of information produced – double 'the bytes' every three years – a change of strategy from a policing standpoint is required.
'We can't investigate our way out of this problem.' Clark suggested that instead, multiple approaches are needed: using technology and up-skilling to combat the the threat, and raising awareness to mitigate it.
Collaboration
Throughout the cybercrime event at Mansion House there was one strategic response to cybercrime that stood out: collaboration. Maria Vello, President and CEO of the National Cyber-Forensics & Training Alliance emphasised the importance of threat intelligence sharing.
>See also: Artificial intelligence is aiding the fight against cybercrime
The National Cyber-Forensics & Training Alliance (NCFTA) is a non-profit corporation focused on identifying, mitigating, and neutralising cyber crime threats globally.
Collaboration is key, she said, because the gap between the criminals and the victims/police is widening. When law enforcement don't make arrests, because businesses refuse to share intelligence, then cybercrime will continue to thrive.
Actionable intelligence is the only way to combat the cyber threat, and this sharing of information must be done on an industrial scale, continued Vello. Innovation and acceleration of this way of thinking will ultimately allow authorities to identify threats and their sources.
This will in turn lead to arrests and seizures of major threat actors and their enablers, which upsets the cybercrime ecosystem for a specific underground organisation. This will take months to rebuild. Challenging cyber criminals in this way is the most effective method of deterring their operations and halting the march of cybercrime.
Nominations are now open for the Tech Leaders Awards 2017, the UK's flagship celebration of the business, IT and digital leaders driving disruptive innovation and demonstrating value from the application of technology in businesses and organisations. Nominating is free and simply: just click here to enter. Good luck!