Donald Trump's surprise US presidential election victory back in November 2016 brought with it many promises: 'the Wall', no nonsense 'politics', a rejuvenation of the US economy and a stricter immigration policy.
The latter, according to Lindsey Scott – head of communications at Hired – in a new data report, has always been a hot topic in US politics. However, Trump's rhetoric has been particularly isolationist and as Scott notes: 'developments during and since the 2016 election have significantly increased the attention on immigration'.
Trump's rhetoric turned to action, and one of his first executive orders was to suspend immigration from six Muslim-majority countries. It brought with it huge amounts of controversy and was denied by a number of US judges.
>See also: UK increasingly reliant on foreign tech talent 
Another sector that was particularly enraged was the US technology industry – the extended Silicon Valley community. The tech sector relies on the skills of people from countries outside their own. Cutting this off with a 'Hire American, Buy American' policy is detrimental to continued technology innovation. This is because, quite simply, there is a tech talent shortage facing the US, and the rest of the world.
The United States, writes Scott, is facing 'a shortage of more than 1.1 million STEM workers by 2024, an issue that may be further exacerbated by limiting access to foreign technical talent.'
'The current political climate has caused uncertainty among the tech industry, particularly as it relates to hiring activity between US-based companies and foreign candidates.'
In Hired's data report, it looked at what impact this new political landscape is having on international tech hiring, and what this means for the future of the tech industry in the US.
>See also: Trump's rejection of Paris climate deal alienates US tech firms
'Our research revealed a 60% decrease in requests from US-based companies to foreign workers from Q2 to Q4 2016, which was likely the result of uncertainty around immigration policies generated by the election. This uncertainty abated to some extent post-election, but in Q2 2017, US interest in foreign workers was still down 37% year over year.'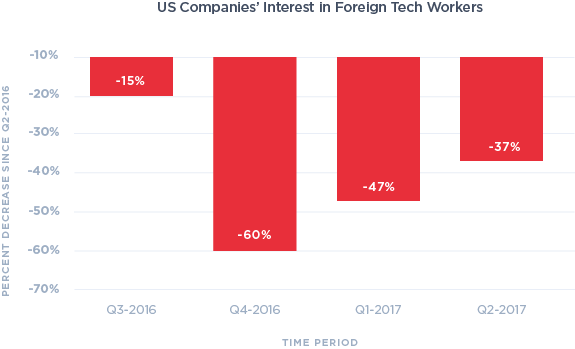 This trend worked in reverse as well. The report revealed that foreign candidates were also slightly more reluctant to engage with US companies – there was a 4% decrease in the rate at which they accepted interview requests from American companies between Q3 and Q4 2016. This rebounded more than twofold in 2017.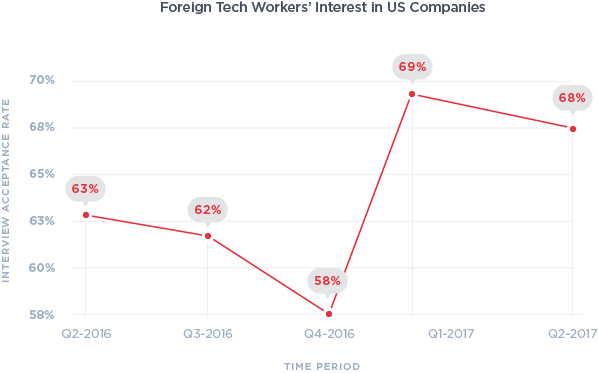 The opposition to Trump's attitude to immigration and his H1-B, 'Hire American, Buy American' policy, is based around the value of foreign talent to the US tech industry.
Scott notes that 40% of 'Fortune 500 companies were founded by immigrants or their children, so it is unsurprising that many in the US tech community support open immigration policies. What's more, our study revealed that US tech workers also think immigration brings innovation and diversity to the industry.'
>See also: What Trump means for technology
It is simple, she suggests, '55% of total respondents agree there is not enough tech talent in the US to meet the demand', and nearly half do not think the current structure of the H1-B visa program is working.
The report quotes that "the underlying premise of the system is flawed, but not the 'entire system.' The system needs to prioritise skilled independent workers who can make a difference in a wide variety of fields, not just tech. The key should be independent, as in, not tied to a company/sponsor, but rather approval by US that they will benefit the economy at large."
Impact on innovation
As mentioned, a lack of talent will lead to a decrease in innovation – not only for businesses integrating new technology into their systems, but also for the public sector.
The report revealed that 60% of respondents indicated that they believe the current administration will have a negative impact on the tech industry, and almost a quarter said they are less likely to start a company in the US as a result.
'Combined with recently announced plans to eliminate a federal rule that lets foreign entrepreneurs come to the US for the purposes of starting new companies, it all adds up to a troubling outlook for the US's ability to to retain talent and foster innovation.'
>See also: 'More than a third' of tech talent willing to leave UK post-Brexit
Indeed, as a result of this restrictive, isolationist attitude – 40% of survey respondents have considered relocating to another location since the 2016 election. Of those individuals, nearly one third cite Canada as their top choice (32%), followed by Germany (12%), Asia (10%) and Australia (10%). Furthermore, it appears as though Brexit has had a negative impact on tech workers' decision to relocate to the UK. While 6% of respondents listed the UK as their top choice if they were to relocate, another 43% of respondents said that Brexit had made the UK a less desirable place to live.
Open your arms
The result of the US election and Trump's victory brings the same uncertainty that Brexit is bringing for the UK and its economy. There are numerous factors to consider, but the uncertainty surrounding immigration policy and the resulting lack of talent available is creating a worry that needs to be addressed.
In both countries, Scott concludes, 'the need for tech talent remains at an all-time high, and if companies can't rely on foreign workers to help cover shortfalls in domestic supply, we're likely to see an exacerbation of the skills gap. In fact, we're already seeing early signs pointing to this trend, as the number of interview requests per user on the Hired platform has steadily increased in recent months. Combine this with the fact that the VC market is on the upswing after a massive contraction that started in the back half of 2015, and we could see a severe talent crisis as companies pump more money into hiring.'
>See also: Winning the tech talent war as digital transformation heats up
'Over the long term, these issues could very well have a negative impact on the US' ability to stay competitive in the global tech economy. This is especially true given efforts by countries like France and Canada to lure tech talent and companies to their soil through more relaxed immigration policies, special visas for entrepreneurs and tech talent, and tax incentives for businesses.'
At the moment, both the US and UK are still some of the most attractive places for tech talent. However, political policy may hinder the ability for companies to hire this talent.