The increasing sophistication of automated systems will have far-reaching implications for work and employment, and governments should be ready for upheaval, according to the compelling The Automation Readiness Index, created by The Economist Intelligence Unit and sponsored by ABB.
The in-depth report assesses how well-prepared 25 countries are for the challenges and opportunities of intelligent automation. The UK ranks eighth.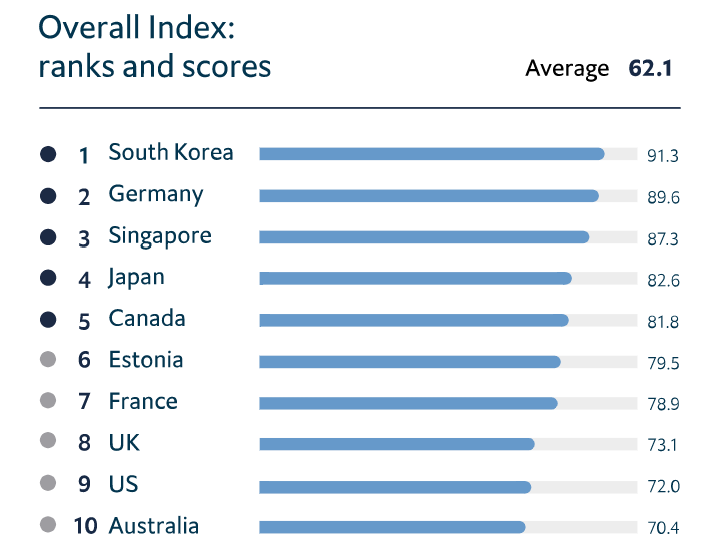 'The challenges and opportunities of intelligent automation require a robust policy response informed by multi-stakeholder engagement but, so far, both are lacking,' says the report.
For the UK, education was deemed the weakest link, with the problem starting at primary school level. The report identified the UK as falling behind other countries, like Singapore, Japan, Estonia, Canada and South Korea, in developing a strategy to integrate 21st century skills, like problem-solving and critical thinking into the country's education system.
>See also: 5 challenges of intelligent automation at scale
"The reality is students of this generation are digital natives who accept their future is to be driven by technology, even when the institutions around them may be slower to adapt," said Ash Merchant, director of Education at Fujitsu UK. "As a result, the education environment needs a refresh in order to maintain its place as a centre for knowledge, stimulator of ideas and supporter of the next generation on their path into the workplace. Learning and innovation go hand in hand, and our work though the Fujitsu Ambassador Programme is a great example of how industry can collaborate with the education sector to help students and teachers adapt. We know that students of this generation are digital natives, but to get them ready for the world of work we need to also pay attention to equipping our teachers with the training and tools they need to help students navigate the digital future we've created for them."
"With 2.3 million digitally skilled workers needed in the UK by 2020, all industries face a real challenge. To ensure the UK remains at the heart of digital transformation, it is essential that industry and educational bodies – public and independent – work together to make technology accessible for all."
>See also: 2018 will be the year of automation in enterprise
"Technology is forcing our industries to evolve at a rapid pace; from retail to finance to manufacturing, business leaders are telling us that their organisations will not exist in their current form in five years, making it crucial to employ people who have 21st century skills, like problem-solving and critical thinking."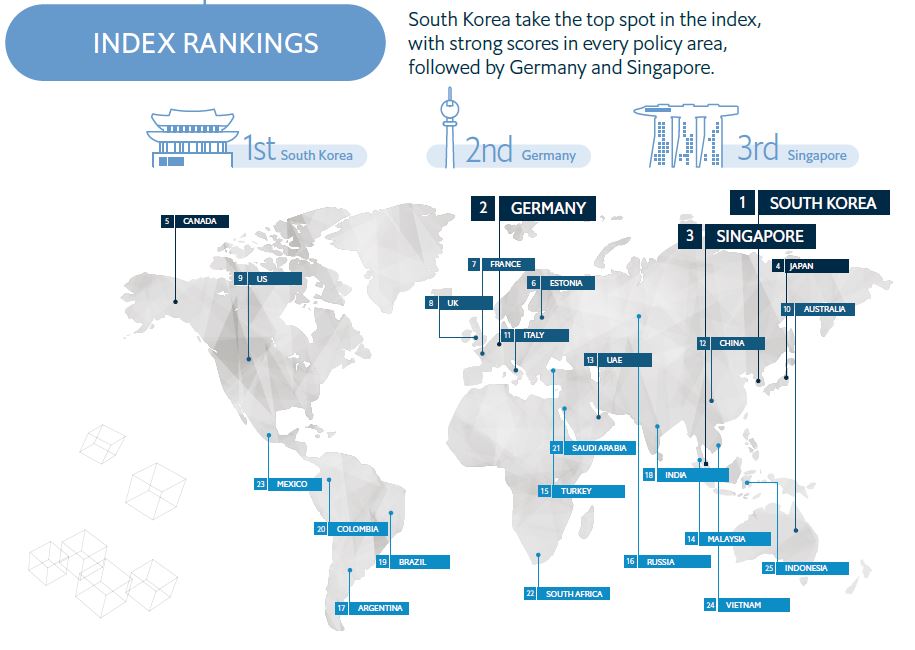 Automation challenge
There has been some effort to adapt to the challenge of robotics and automation in the UK. The report points to the UK government's Industrial Strategy Challenge Fund, which awarded £68 million in funding to four research and innovation projects in robotics and AI systems, mainly involving offshore energy development.
>See also: Staying ahead of the curve as automation takes jobs 
However, 'in assessing the existence of policy and strategy in the areas of innovation, education and the labour market,' the study found that overall little policy is in place today that specifically addresses the challenges of AI and robotics-based automation. 'No country has yet to "take the bull by horns", in the view of several experts interviewed for the study. A small handful, however, including South Korea, Germany and Singapore — the overall index leaders —have undertaken individual initiatives in areas such as curriculum reform, lifelong learning, occupational training and workplace flexibility.'
To meet the challenge of successful automation head on, the report calls for more engagement between government, industry, educational specialists and other stakeholders 'if policymaking is to keep pace with innovation in automation'.
Professor Rose Luckin, chair of learner centred design, director of Educate at UCL Institute of Education and a senior member of the panel that produced the ARI report, said: "The UK has a real opportunity to take a world-leading role in creating and successfully deploying a new generation of smarter digital learning tools across education and training, that will equip students and re-equip workers of all ages with the skills they will need to thrive in the new economy."
>See also: Embrace automation or die, says BMC Software
"However, without a clear policy agenda, including the assessment and inspection services, targeted funding, and the engagement of educators (as well as technologists), this opportunity will be lost and the UK risks being left behind."
Emerging countries
"In areas such as agriculture, automation is a great opportunity for emerging countries. Brazil is a good example; it will enable a productivity increase that is critical for [the] country's food sector to compete with developed countries. Energy production will also benefit with, for instance, the use of automation and robotics in offshore oil exploration," said Marco Henrique Terra, director, Center for Robotics, Universidade de São Carlos in the report.
Indeed, Harry Patrinos, practice manager for education, East Asia and Pacific with the World Bank suggests in the report that the countries most affected by automation "will be the emerging, middle-income countries that are preparing for the East Asian miracle of open economies led by rapid industrialisation; this manufacturing model won't be available to them."
"Low-income, predominantly agricultural economies will be largely spared from the effects of automation for a while."